Definition
The Shore hardness scale measures the hardness of elastomers (rubber, EPDM, PVC, Silicones, TPE, TPV, SEBS…), some plastics, leathers, wood…
For our range of materials, we use scales A and D :
Shore A (for soft materials)
Shore D (for hard materials)
Measurement conditions and different hardness scales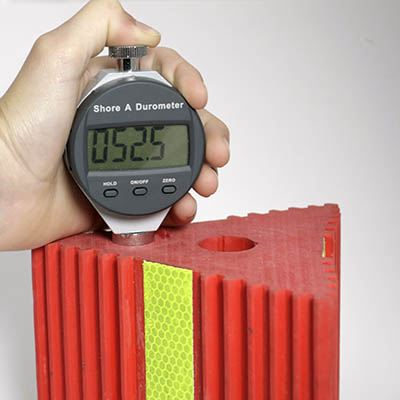 The measuring tool is called durometer.
The tip of the penetrating rod is different on Shore A and Shore D durometers.
To measure the hardness correctly, the sample must have a minimum thickness of 6 mm (we recommend 10 mm).
The profile surface must be flat.
For an extruded profile, the measurement must be taken on the section (not on the external surfaces) : therefore it is necessary to cut the profile to have a regular slice.
The measurement must be made at ambiant temperature on a hard flat surface.

Measurement tolerances
Tolerances are usually +/- 5 shore, it allows to take into account the vulnerability of the measurement method and the manufacturing process.